The Chairman of Yiwu Spanish Exchange Foundation visited the school
On the morning of September 13, Fang Hua, chairman of the Yiwu Spanish Exchange Foundation, and two people came to the school for exchanges. He Shaoqing, member of the party committee and vice president, and heads of the International Department and the School of Foreign Languages ​​and Trade attended the forum.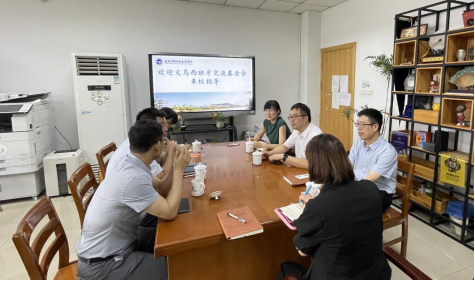 meeting venue
He Shaoqing extended a warm welcome to the guests and introduced the school's three major school-running characteristics, including international student training, education internationalization level ranking, multilingual talent training, Spanish research center, Sino-Western cross-border e-commerce training base, and cooperation and exchanges with Spanish universities. The emphasis on the internationalization of school education has been highlighted in various aspects, and the Yiwu Spanish Exchange Foundation has been grateful for the strong support of our school's international exchange work. It is hoped that both parties will continue to strengthen docking, deepen cooperation, and promote cultural exchanges and cultural exchanges between Yiwu and Spain. Business dealings.
Fang Hua fully recognized the characteristics of our school and briefly introduced the operating history of Yiwu Spanish Exchange Foundation. He said that the foundation has more new missions after being incorporated into the management of China Commodity Mall Group. He looks forward to deepening cooperation between schools and enterprises in business services and overseas warehouse expansion.
The two sides conducted in-depth exchanges on specific cooperation such as the construction of the Silk Road Academy, the contact of the Spanish Extremadura Autonomous Region office, and the training of talents. (Source: Author of International Cooperation and Exchange Office: Yiwu Group)