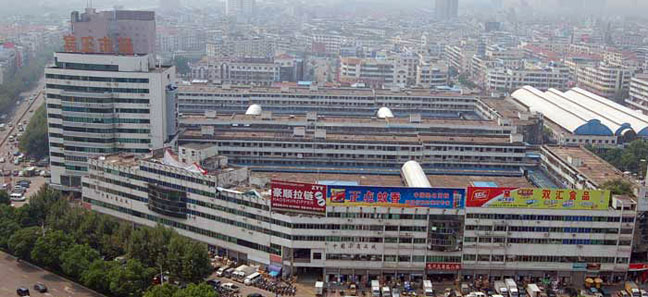 Yiwu Binwang Market
* Location: No. 158 Bingwang Roadway, Yiwu.
* Opening hours: 09:00 -17:00, 7 × 365, except a 15-day-close down during Spring Celebration.
Yiwu Binwang Market:Same Name:Yiwu Bingwang Market has been closed on 18th, April. 2011. There is a brand-new garment market: Yiwu New Huangyuan Market. And the bedding products have been moved to 5th district of Yiwu International Trade City. Please inspect Yiwu Beddings Market.

Yiwu BinWang market was set up in 29th Nov. 1995. It consists of 5 districts, cosmetic market and global trade center, overall 8 parts. There're 9000 booths in the market, nearly have 17 markets, The details listed below is the different 5 districts information intro:
BinWang A District: the ground floor is trading for habiliment. The business location is 9,600 square meters, total 2245 booths, primarily deal with habiliment wholesale and retail. The second up floor is knitting and bed linen.
BinWang B District: the ground floor is trading for habiliment. Business area is 7,212 square meters, overall 1513 booths, primarily handle kids's fit, and trousers wholesaling and selling. the 2nd up floor is bedding trade district.
BinWang C District: the ground floor is trading for grocery, business area is 6,146 square meters, overall 667 booths, the second up floor is towel trading district.
BinWang D District: the ground floor is trading for grocery, business is 5,910 square meters, total 834 booths, the second up floor is necktie trading district.
BinWang E District: this market is for fabric trading. Business location is 6,065 square meters, overall 413 booths.
The overall analytical information of the Yiwu Bingwang Market is below, for your general impression of it:
a. Garments market, about 1000 booths
b. Towel market, about 210 booths
c. Necktie market, about 210 booths
d. Bed linen market, about 350 booths
e. Food and beverage, about 320 booths
Yiwu Binwang Market is also a really crucial market in Yiwu, and the history is much longer than the Yiwu International Trade City, this experienced market can let you buy the goods with good quality and unsurpassable cost!
Welcome to Yiwu Binwang Market!
Bed linen Market (previously Binwang Market) made up by five trading blocks, Publications Center, and the International Trade Center, with more than 8,000 booths and over 20000 business entities in overall, generally handling clothing, bed linen, is the biggest bed linen professional market in Zhejiang Province.
Many dealers of Yiwu Bed linen Market originate from Jiangsu Nantong, Yiwu, Dongyang, Pujiang and other places, they rely on Yiwu market, the domestic trade and foreign sales go hand in hand, and foreign sales part accounted more than 60% of the total market, mainly exported to Middle East, Europe, South America and other places.

Market distribution of Binwang market