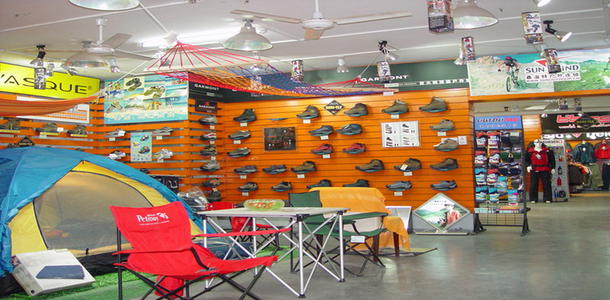 Yiwu Sports & Outdoor Market
Location: 2nd and fourth Floor, District 3, Yiwu International Trade Mart.
Opening Hours: 09:00– 17:00, 7 × 365, other than a 15-day close down throughout Spring Festival.

Let's go around Yiwu sports and outdoor market. There are more than 2000 shops shows all kinds of Sports and outdoors posts. You can look around the shops and find the posts which please the local customers.

Small mixed orders are extremely easy here. Some buyers from the little company and some simply want to undertake order, so they do not wish to place a large order. The mixed designs and blend colors is enabled here in shops. But the minimum order quantity is really various from store to go shopping here.

A lot of suppliers in Yiwu Sports & Outdoor Market are from Zhejiang province and Guangdong province. The suppliers can produce according to the clients'request. Some can print the logo on the articles of sports and outdoors for the clients if you can develop your own logo.

Yiwu sports and outdoors market have actually got the reputation of low price and high-quality products,now this credibility is going to be heard by the world. Yiwu is now becoming increasingly more worldwide. Lots of foreigners know Yiwu market. They begin to discover it that the cost here is lower than other cities in the world, likewise with the efficient service. Some of them choose to come to the sports and outdoors market to purchase. After they return to their motherlands, they discover it in surprise they can make more revenue than purchase in the local market.

The suppliers tend to screens their produce in Yiwu market, for Yiwu is now ending up being the window of China. Welcome to the Yiwu outdoors and sports market.