Yiwu Market, i.e. China Yiwu International Trade City, is the biggest wholesale market worldwide, a permanent exhibition in China.
Canton Fair, i.e. China Import and Export Fair, is the most popular trade convention in China.

Yiwu Market and Canton Fair Differences,Yiwu agent reply to you:
1) Canton Fair remains in Guangzhou city, Guangdong province. Yiwu market is in Yiwu city, Zhejiang province.
2) Canton Fair starts from 1957. Yiwu market begins with 1982.
3) Canton Fair opens for a couple of days in April and October every year. Yiwu market opens throughout the year except for a half-month close throughout Chinese New Year.
4) Canton Fair has more big producers and huge trading business. Yiwu market has more little factories and suppliers.
5) Canton Fair has MOQs of thousands or 10s of thousands or one full container, ONLY for massive importers. Yiwu market has MOQs from a few dozens to a few hundred. You can mix 200 products in one container. Invite small store owners to pertain to Yiwu.
6) At Canton Fair, nearly all suppliers speak English and understand what is FOB?At Yiwu market, only a few providers speak little English and have no concept about what is FOB. It would help if you found a dependable and occupation agent in Yiwu.
7) The cost in Yiwu market is much cheaper than in Canton Fair. You can find very cheap products: socks US$ 0.1, hairpin US$ 0.05, ballpoint pen US$ 0.08, slippers US$ 0.5, toys US$ 0.3, etc. in Yiwu market.
8) The overall numbers of suppliers in Yiwu market is far more than in the Canton Fair. There are more than 100,000 providers in Yiwu market.
If you have time, you can first go to Canton Fair, then fly from Guangzhou to Yiwu and visit Yiwu market. We wish to say, a growing number of consumers concern Yiwu market from Canton Fair recently.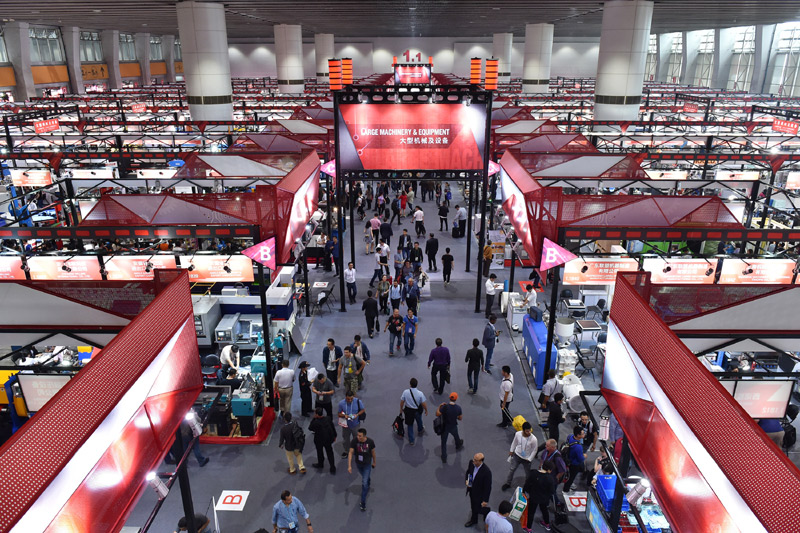 129th China Import and Export Fair, Canton Fair, 15 days from April.15 to May. 5.
Location: China Import and Export Fair Complex
( No. 380, Yuejiang Zhong Roadway, Guangzhou, China).
Stage 1 (April. 15-19, 2021).
Electronics & Household Electrical Devices.
Lighting Equipment | Cars & Spare Parts.
Machinery|Hardware & Tools.
Building Materials | Chemical Products.
Phase 2.
( April. 23-27, 2021).
Durable goods.
House Decorations.
Presents.
Phase 3 (May 1-May 5, 2021).
Workplace Materials, Cases &Bags, and.
Entertainment Products|Food |
Textiles & Garments|Shoes |
Medicines, Medical Gadgets and Health Products.
Permanent China Fair, Yiwu Market, opens every day.
Location: China Yiwu International Trade City.
Date: Every Day.
Include Saturdays and Sundays and Public Holidays.
Omit 15-days Chinese New Year Holidays.
( 09th, Feb. 2021– 28th, Feb. 2021).
Included Products in Yiwu Market:
1) Apparel & Shoes: T-Shirts, Gowns, Sportswear, Underwear, Jeans, Underclothing, Socks, Boots, Sneakers.
2) Style Devices: Headwear, Hats, Neckties, Belts, Gloves, Sunglasses, Watches, Bags, Handbags.
3) Present & Crafts: Christmas Products, Crystal Crafts, Metal Crafts, Vacation Gifts & Decoration, Image & Photo Frames, Key Chains, Candles & Candles Holders.
4) Health & Beauty: Massager, E-Cigarette, Makeup & Makeup Tools, Skin Care, Perfume & Perfume Bottles, Personal Hygiene.
5) House & Garden: Child Products, Bath & Toilet, Bedding, BBQ, Cookware, Tableware, Kitchen Accessories.
6) Fashion Jewelry: Bangles & Bracelets, Brooches, Earrings, Fashion Jewelry Set, Pendants, Rings, Silver & Sterling Silver Precious Jewelry, Gemstones.
7) Workplace & School Supplies: Pens, Note Pad, Calculator, Educational Products.
8) Promotional Presents Secret chain, Caps, Lanyard, Digital Picture Frames, Coasters, Golf Items, T-shirts.
9) Sports & Outdoor: Outdoor Camping, Games, Pet & Products, Scooters, Sport Products.
10) Toys: Dolls, R/C Toys, Educational Toys, Ball, Electrical Toys, Plastic Toys.
You can fly from Guangzhou to Yiwu. Order from Yiwu market:.
1) Arrive in Yiwu in April. 19th or 18th. Shopping from April. 19-22 in Yiwu market. Fly back to Guangzhou in April. 22 late afternoon.
2) Show Up in Yiwu in April. 27th or 26th. Shopping from April. 27-30 in Yiwu market. Fly back to Guangzhou in April. 30 late afternoon.
3) Arrive in Yiwu in May. 5th for 5-6 days in Yiwu market.
If you need our assistance, you buy an air ticket and book hotel in Yiwu. Please feel free to contact us.
Please come to Yiwu directly if you do not desire to participate in Canton Fair. >> How to go to Yiwu from my nation?
Friendly pointer, flight and hotel cost will be double throughout Canton Fair time. Please come to Yiwu before April.
Any method, you can concern Yiwu whenever except Chinese Brand-new Year holidays.