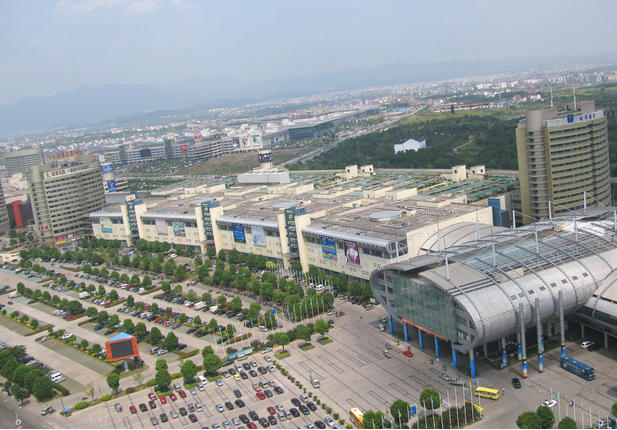 Have you been heard Yiwu Futian Market? Yiwu Futian Market is another name of China Yiwu International Trade City. Yiuw Futian Market
divided into 5 district which now end up being an international trade city.
15 years ago, there are no Yiwu Futian Market, this place is called Futian Town (Futian Cun). There are farming, farmland and farmers.
In the end of last century, the Yiwu government selected Futian Village as the brand-new place of the 5th generation Yiwu market.
In 2001, Yiwu government started to develop Yiwu Futian Market Stage one, 2 and three. Tips: Phase 2 has 2 districts: District 2 and 3.
Yiwu Futian Market
Yiwu Futian Market District 1 (Phase one).
Founded in October, 2001, the Yiwu Futian Market District 1 (Stage one) is formally put into operation on 22 October, 2002 which occupies 420 Mu and a building location of 340,000 m2 with an overall investment of 700 million. It is divided into 5 primary service locations: subject of the market, manufacturer outlet center, shopping center, warehousing center and catering.
>> Yiwu International Trade City District 1.
Yiwu Futian Market District 2 (Phase 2).
Opened on 22 October, 2004, Yiwu Futian Market District 2 (Phase two) inhabits 483 Mu, over 600,000 m2 structure location, above 8000 booths and the business entities go beyond 10,000. The very first floor deals in suitcases & bags, umbrellas and raincoat; the 2nd floor deals in hardware tools & fittings, electrical products, locks and automobiles; the 3rd floor handle kitchenware & sanitary ware, little house appliances, telecom centers, electronic instruments & devices, views & clocks etc; the 4th floor is manufacturer outlet center and other high-class organization location such as HK Hall, Korea Hall, Sichuan Hall etc; on the fifth floor, there is sourcing & service center of foreign trade; on floor 2-3 of the main hall, there are tourism & shopping center and Historical Museum of China Product Mart. There are supporting facilities, consisting of industrial & commercial bureau, tax bureau, local police station, banks, restaurants, logistics, post office, telecom companies and other functional departments and service companies, in the east subsidiary structure. And the market has company building, office building, four-star hotel, west and east square as well as sightseeing bus around the market. In 2005, the Yiwu Futian Market passed ISO9001 quality management system accreditation, ISO14001 environmental management system certification and the assessment of nationwide AAAA picturesque spot.
>> Yiwu International Trade City District 2.
Yiwu Futian Market District 3 (Phase 2).
Yiwu Futian Market District 3 (Stage 2) has 460,000 m2 structure area, over 6000 standard booths of 14 m2 on floor 1-3, more than 600 booths of 80-100 m2 on floor 4-5 and maker outlet center on the fourth floor. The market was equipped with main air conditioners, broadband system, Web TV, information center and firefighting & security tracking. Yiwu Futian Market regards welcome customers both at home and abroad, producers, foreign trade service companies to join us and promote shared development.
>> Yiwu International Trade City District 3.
Yiwu Futian Market District 4 (Phase Three).
Officially taken into operation on 21st October, 2008 Yiwu Futian Market District 4 (Phase Three).
The first floor of Yiwu Futian Market (( District 4)) deals in socks; the 2nd floor offers in everyday needs, gloves, caps & hats, knitted and cotton items; the 3rd floor deals in shoes, knitted belt, lace, ties, yarn, towel and so on and the fourth floor deals in bras, underclothing, belts, headscarfs. Yiwu Futian Market (District 4) obtains the ideas from styles of present worldwide big scale business centers, and it is a mix of numerous state-of-the-art systems consisting of central air conditioning system, large electrical details screen, broadband network system, LCD tv system, solar energy generation system, rainfall recycling system, automatic skylight roofing system as well as flat escalators etc. Yiwu Futian Market (District 4) is a wholesale market which is of highest in innovation and internationalization presently in China.
>> Yiwu International Trade City District 4.
You can drive a cars and truck on Futian Road (Futian Lu) to see all scene of Yiwu Futian Market District 1, 2, 3, and 4.
Need Yiwu Market Sourcing Providers? Please do not hesitate to call us.